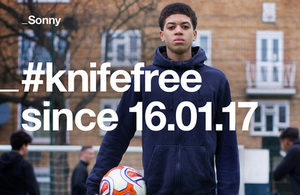 The Home Office has today launched a new advertising campaign to reduce knife crime among young people.
By using real-life stories of young people who made the decision not to carry knives, the #knifefree campaign aims to highlight the consequences of carrying a knife and to inspire young people to pursue positive alternatives.
Serious Violence Strategy
The campaign forms part of the government's forthcoming Serious Violence Strategy, which will set out action to tackle serious violence by placing new emphasis on steering young people away from crime while continuing to promote the strongest possible law enforcement approach.
Home Secretary Amber Rudd said:
The emotional stories at the heart of the new Knife Free campaign bring home in powerful fashion just what a far-reaching impact it can have on a young person's life if they make the misguided decision to carry a knife.

I hope any young person who is seriously thinking about carrying a knife listens to what the implications can be and realises what options are available if they choose to live knife free.
Minister for Crime, Safeguarding and Vulnerability Victoria Atkins said:
This powerful new campaign will highlight the tragic consequences of carrying a knife and challenge the idea that young people are safer if they carry one.
The £1.35 million campaign will use advertising on social media (Snapchat, Twitter) and digital channels (TV on demand, Spotify) to target 10 to 21 year olds who use these platforms. A poster campaign will also be displayed in English cities where knife crime is more prevalent.